Our teachers are ready to share with you - virtually!! Stay safe and learn from home. We will be using Zoom for monthly clubs starting in August!!

Register for all classes on our website - the access code will be emailed to you along with the handouts!

Some will be listed as LECTURE - in these you will not be doing the technique. You will watch the lecture and take notes then try the new technique!

All questions will be submitted through the "Chat" feature in Zoom.

We will have the classes recorded for future reference!
---


Premier Plus 2 Ultra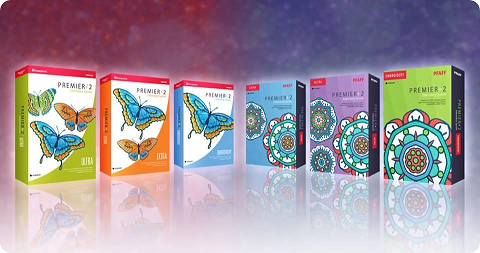 Monday August 3rd
10:30am - Noon

Create a "larger than the largest hoop" wall hanging design
using Extra in the PREMIER+ ™ 2 software and Design
Aligner to intelligently split up the design. Design Aligner
will allow the user to custom split the design so that the
hooping splits occur in the least dense areas. The Split
Project Wizard could also be used to spit up large designs
but that will only split along straight lines, so it is not as
customizable.

10:30am - Noon

LECTURE
Watch the steps and take notes then complete on your own!

Click here to register


---
"For the LOVE of Sergers"



Learn how to sew zippers with your serger!

Friday August 7th
11:00am - 1:00pm

LECTURE
A handout for a small project will be emailed to you upon registration.

Click here to register


---
Kimberbell Club

"Flamingo Techniques Pillow"




Learn Chenille in the hoop, the new Kimberbell "pull flowers" and sewing on buttons with your sewing machine!

Tuesday August 11th

11:00am - 1:00pm


Click here to register



---
Accuquilt Club

"Tulip Wallhanging"




Join Lisa from home - she will show you how to use your Accuquilt Cubes and Corners to create this cute wall hanging the Easy way!

Please have all fabrics prepared prior to the class

Tuesday August 18th

1:00pm - 4:00pm

Click here to register


---
No limit to the number of people that can attend - invite friends over and have them join us also!!

It has been a LONG few months - we look forward to "seeing" you in a class soon!!

Click here to register!